Machine Tools
Industrial Machinery
Measuring/Testing Equipments
Software
Jig & Fixtures and Accessories
Food & Beverage Machines
Localized in Indonesia
Lease and Finance
In the field of mold & die, sheet metal and parts processing, PT. MC TECHNOS INDONESIA provides optimum systems to users as consistent solutions. This includes general machine tools, mainly featuring EDM machines and laser processing machines as well as automated systems.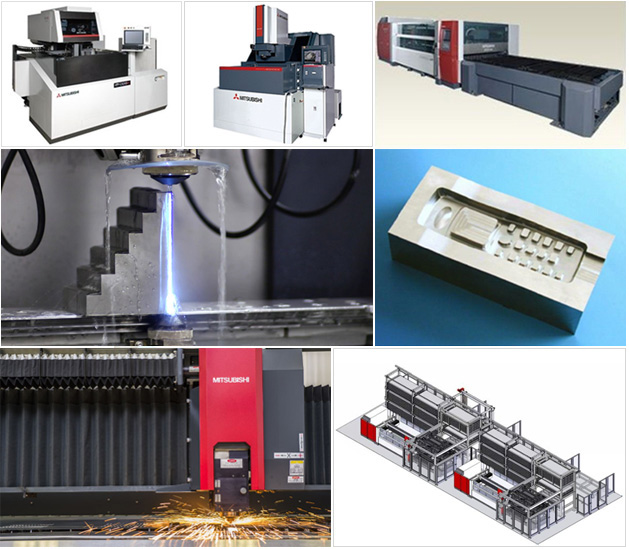 Machining Center
Double Column Machining Center
Graphite Milling Machine
Conventional Milling Machine, NC Milling Machine
Horizontal Boring Machine
CNC Lathe
Conventional Lathe
Radial Drilling Machine
EDM (Sinker EDM, Wire Cut EDM
Surface Grinder
Cylindrical Grinder
Internal Grinding
Profile Grinding Machine
Tool Grinder
Gundrill Machine
Die Spotting Press, Try-out Press
Mold Turning (Slab Turning) Machine
Mold Washing Machine
Mold Laser Welding Machine
Heat Treatment Machine
CMM, Layout Machine
CAD/CAM for Mold and Die Design and Manufacturing
Manufacturing Control and Process Control Software
HEAT & COOL System
Laser Processing Machine (Cutting/Welding)
Gas Cutting Machine, Plasma Cutting Machine
Weld Joint Bevelling Machine
Mechanical Press, Hyraulic Press, Servo Press
Die Spotting Press, Try-out Press
Forging Press, Hammer Press
CNC Saw Cutting Machine
Turret Punch Press and Toolings
Press Brakes and Toolings
Pipe Bending Machine
Shearing Machine
Laser Measuring Equipments
Plastic Injection Molding Machine and Accessories
Die Casting Machine and Accessories
Take-out Robots
Washing Machine
Painting Equipment
Water Treatment Facilities
Welding Machine
Loader/Unloader
Factory Automation Systems